David & Lorraine Cheng Library
Community and Social Justice Studies Liaison
M. Judy Matthew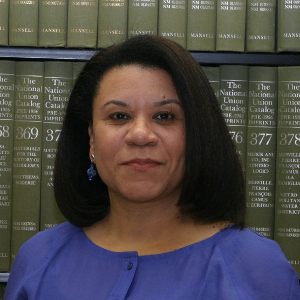 ---
---
As a member of the Library Liaison program, Judy communicates with department faculty about library services and collections relevant to curricula needs. Working with the faculty of the Africana World Studies (AWS) and the Women's and Gender Studies (WGS) departments, she collaborates with faculty to purchase materials relevant to current program offerings.

Judy is an active participant in the User Education program. In this capacity, upon request by the faculty, she teaches a class about resources and services of the Cheng Library. This is usually conducted to introduce students in AWS or WGS to the discipline specific resources to complete their research requirements for a course.

She holds a B.A. in Psychology and an M.S. in Library and Information Science from Simmons College. While at William Paterson, she earned an M.A. in Communication.

In her years as a member of the university community, Judy served on several university committees: Athletic Policy Council and the Assessment Council of the Faculty Senate; first University Day planning committee to celebrate the institution transition from college to university; Excellence 2000 from which the Student Success Plan emerged and numerous search committees. She is an active participant in the Local and Statewide union for faculty, librarian and professional staff members.

Judy joined then Sarah Byrd Askew library faculty in fall 1994 as a Reference Librarian. In 1998 she moved to the role of Coordinator of User Education. In 2004, she again moved to lead the Periodicals and Document Delivery department. In that role, she is responsible for the receipt and payment of library periodicals, serials and electronic resources collections. She also prepares statistical reports on periodical collections and interlibrary loan use and cost.
http://guides.wpunj.edu/AWS