David & Lorraine Cheng Library
Educational Leadership Liaison
Neil Grimes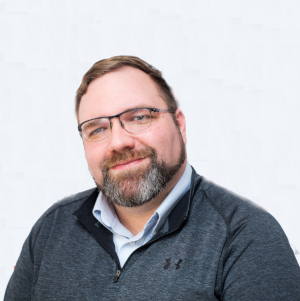 ---
---
Neil joined the David and Lorraine Cheng Library in October of 2019 and serves as the Education & Curriculum Materials Librarian, coordinating services and resources for the Curriculum Materials Center and working closely with the College of Education.
Neil holds a Bachelor's degree in History from King's College, a Master's in Library Science from Clarion University, and a Master's of Education in Instructional Technology from Wilkes University. Prior to coming to the David and Lorraine Cheng Library, Neil spent 13 years working in public education for the Wilkes-Barre Area School District as a classroom teacher (STEM/Technology and Social Studies) and School Library Media Specialist K-12. In addition to his teaching responsibilities, he worked for 11 years as a part-time Research & Scholarly Services Librarian at the University of Scranton. Neil has a true passion for information literacy and libraries, and looks forward to working with the faculty, staff, and students at William Paterson University.
Neil serves as Librarian Liaison to most of the College of Education. He holds office hours in Valley Road 4124 on Mondays and Thursdays from 3-5 pm, or by appointment. Neil provides course-related instruction and workshops upon request.